1920x1080


















PureVisionHD 1080 9.6 Version 9.6 of the skin PureVisionHD 1080 (wide screen 16:9; Full HD 1920 x 1080, but scaling perfect on HDReady screens with 1280 x 720) including the themes Standard, Horizon Up!, Modern UI and the amazing animated theme Brave New World (including the 3 "layouts" Carousel, H ...







DefaultWide HD IMPORTANT NOTICE: This skin is no longer available as standalone skin in this repository! From now on, the skin DefaultWideHD based on this skin is integral part of MP 1.13.0 Pre Release and higher.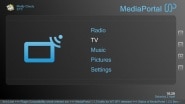 Frames is a simple (No plugin dependency and no configuration/menu editor), list view orientated, clear and intuitive skin designed based on Blue3Wide code and ideas of other skins like Maya and other sources. Note: Please see Archived File 1 for a MediaPortal 1.2.x compatible version and Archived ...