EventGhost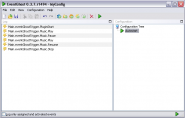 Generate events in EventGhost or in Girder based on activities in MediaPortal (Music/TV/Movie/Videos - Stop/Pause/Play etc.). For more information, see the forum thread, or visit my website at HTPCSolutions.com Now compatible with MediaPortal 1.2RC.








EventGhostPlus is an all purpose plugin for transmitting and receiving events from EventGhost. This plugin is based on Eventtrigger (by Moryoav) and MessagePlugin (by and-81, Dragy). Local or network EventGhost installation is required. Implemented features: Sending Events Sending events to eit ...





This is the old Message Plugin, made compatible for MediaPortal 1.2 and up. The plugin was originally developed by and-81. All credits go to him, I only added some lines to make it compatible :) This is a "virtual remote" plugin, which is usefull when you use EventGhost, Girder or some comparable ...