Google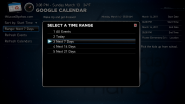 This plugin utilizes the Google GData API's to view and add Google calendar events.  The plugin supports multiple calendars, but only 1 may be selected at a time.  It also supports adding new events to a selected calendar.  The installer contains support for the following skins:&nbsp ...



A plugin which notifies MediaPortal users of incoming asterisk calls with caller number, caller id and contact photo.  Currenty contact information is synchronized from Google Contacts, so you will need a Google account with contacts associated with your account for caller name and photo to wo ...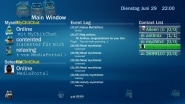 MyChitChat (1.0.0 RC) - for MediaPortal 1.2.0 BETA! all the details will be updated asap in this very first post - now I need sleep steady hands for typing! Documentation: Description: This is my 2nd Plugin after the MySleepTimer. Spoiler: Another one involving "cats" is on it's way ;-). MyCh ...