logo
Ergebnisse 21 - 28 von 28






The file name of the tv logo must exactly match the name of the channel in TV Server Configuration. ## XP USERS Place the png image files inC:\Documents and Settings\All Users\Application Data\Team MediaPortal\MediaPortal\thumbs\tv\logos ## VISTA USERS Place the png image files inC:\Users\All Us ...


Here are the (132x99) TV logos I use for the basic digital TV palette of Wasserwerke Zug (Telezug) in Switzerland.  The 4:3 aspect ratio seems to better fit the available space in the TV Guide in the MP 1.2 DefaultWide skin.  Just unzip the contents into the thumbs/tv subdirectory under Me ...






Contains updated set of TV logos for Czech and Slovak Channels: CT1 CT2 CT4 CT24 CTHD Nova Nova Cinema Nova HD Prima Family Prima Cool Prima Love Prima Family HD Barrandov TV Ocko TV and others







300x300px with transparent background. Yle TV1, Yle TV2, Yle Teema, Yle Fem, MTV3, Nelonen, Sub, Jim, Fox, Ava, Liv, TV5 Installation: Open MP user directory from start menu - Programs - Team MediaPortal - MediaPortal - User Files and browse to: thumbs - TV. Copy all the files there. Files names ...



Contains set of TV logos for Polish TV stations broadcasted via DVB-T: Atm Rozrywka Eska Tv Polo Tv Polsat Polsat Sport News Puls 2 TTV TV4 TV6 TVN TVN Siedem Tvp1 Tvp1 Hd Tvp2 Tvp2 Hd Tvp Historia Tvp Info Wroclaw Tvp Kultura Tvp Polonia Tvp Rozrywka Tv Puls










Hi, There are several different tv + radio logo packs for MediaPortal.I maintain them on the NZ MP Wiki page, so it is best to get the latest version from there. TV Logos:http://wiki.team-mediaportal.com/1_MEDIAPORTAL_1/15_Customization/98_Localization/4_By_Country/New_Zealand/5_TV_Logos  Ra ...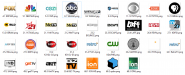 I did not make any of these logos, all credit goes out to the (too many to list) people on this forum, the MythTV forums, XBMC, and various other sites, like titantv, and the station's own web site.  However, Dallas-Ft Worth is a fairly large community, and we use most of the available channels ...
























All current Finlands free DVB-T Logos. Plain white borders...