RicDigital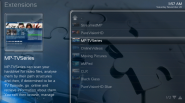 The Extensions plugin for MediaPortal allows you to browse, install, update and uninstall plugin/skin extensions all from the GUI. Plugins can even create a GUI for their settings so users don't need to enter configuration to update popular settings.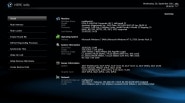 HTPCInfo is a MediaPortal plugin to display computer specific information, e.g. about your machine, BIOS, OS, hard disks, network, system and graphic card sensors, codecs, TV capabilities and many others connected devices as well as monitoring your TV Server and TV Clients. To display sensor values ...




The MyAlarm plugin can be used to wake you up at a specified time. It can display a reminder message, play sound files or a playlist at this time. It is a MediaPortal process plugin and works with a MediaPortal-only, MediaPortal SingleSeat (MP+TVClient+TVServer) and MediaPortal MultiSeat (MP+TVCli ...