Kamshaft
by
Kamshaft
, January 21, 2012
1 of 1 people found this review helpful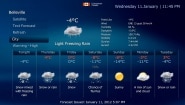 Since the previous included weather plugin is not functioning anymore. This one fills in that gap! Great job!
by
Kamshaft
, October 11, 2011
I love this plugin, but where's the update for version 1.2.1 of mediaportal?
Owner's reply
I updated the link to point to a version that should work in MP 1.2.x.