Valharion
by
Valharion
, September 23, 2013
2 of 2 people found this review helpful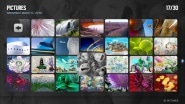 This is definitely my favorite skin for Mediaportal and I'm anxiously awaiting the final version that's compatible with Mediaportal 1.4.
I love the simplistic menu structure and my family loves the way it displays the most recent additions to TV, TV Series and Movies.
I also really love the slide-showing of fan art in the background as it's a great reminder to re-watch your favorite movies or TV shows or as a sort of advertisement for movies you haven't watched.
Well done to the authors it's truly the best skin (in my humble opinion :-) _