munklefish
by
munklefish
, June 25, 2011
1 of 1 people found this review helpful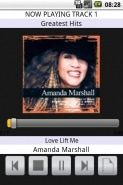 This is a very useful app and works really smoothly.
However, on a tablet it still only shows up at phone dimensions. plus in landscape it is really small and some features are clipped with no way to scroll. In portrait it fits much better, but still uses very little of the available space.
Keep up the goodwork.