Fafnir
by
Fafnir
, December 16, 2012
1 of 1 people found this review helpful
Dear community, I won't write a novel, just some quick words:
This is for me the only skin to replace Mustayaluca.
I gave an excellent, even if there are some minor points which may need some final polishing, but so much nice ideas have been invented, the fan art support is very promising, so: Very much work was put into it (just an estimation ;-) ) and the out come is not 100 % excellent, but not to give an excellent would have been unfair.
Thanks a lot for this great piece of work.
Fafnir.
by
Fafnir
, November 8, 2011
4 of 4 people found this review helpful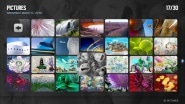 I didn't think it was possible, but this skin stunned me the little necessary bit more than Maya.
Once I installed a pre-version at 8 p.m. and went to bed at 2 o'clock in the morning...
First of all: This skin needs a fast system to be installed for a most convincing experience and usage!
Second: Take your time to test the whole variety of configurations.
Third: Enjoy smooth running, (imo) best-looking and most delightful skins!
The installer is complete and easy to understand. Hint for the installation: Install al plug-ins.
It was a bit touchy when I once did not install all recommended plug-ins, but that was easy to solve.
Elegant colours and blending paired with less bling-bling and the smooth Ken Burns effect on the back ground allow you a totally customized skin with just a few clicks.
Just enjoy!
All the best Fafnir.