alltheway
by
alltheway
, January 1, 2013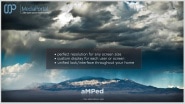 I'm very happy with aMPed skin, easy to configure for my needs, the pause and skip bar is at the top of screen which is a much needed feature for me, I use subtitles and this feature allows me to pause and still read the subtitles or any other on screen test which is located usually at the bottom half of the screen.
The full screen backdrop art on sub menu screens is awesome, I wish that the main menu will also be represented above a full screen background fanart or some background and not divided by the menu left column, other than that which is a personal taste of mine the look feel and options are perfect.
Owner's reply
Thanks alltheway - full screen fanart/backdrops on Home screens is planned (when wide fanart layout is selected)!

EDIT: Now available in aMPed 3.6 - Jul 3, 2013
by
alltheway
, June 20, 2012
3 of 3 people found this review helpful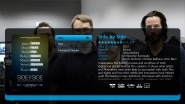 Let me just say that playing around with Moving Pictures is a whole new experience that brings a lot of fun regardless what movie you're going to watch. It's a very enjoyable plugin that stands out on its own merits.
Sometime friends come over to watch a movie, the moment I select Moving Pictures you get the wow factor, suffice to say that everyone has to browse by himself a bit and we end up browsing for titles, actors and fan art of all the old movies each of us likes to remember, and then, and only then we sit back and pick a movie to watch.
Highly recommended for you all.