Am meisten kommentiert
StreamedMP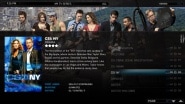 in 16:9 Widescreen - Reviews: 34
Streamed MP is a port of Team Razorfishes skin Mediastream created for XBMC, over to the popular ope...

OnlineVideos





in Filme und Videos - Reviews: 17
This plugin allows watching videos from various websites, using their RSS feeds, parsing html pages,...

Avalon Skin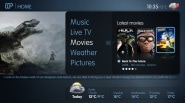 in 16:9 Widescreen - Reviews: 13
The team that brought you "Maya" is proud to annouce a brand new skin called Avalon! We h...

Kürzlich aktualisierte Einträge
MKV Buddy






in Werkzeuge - Created: 28 Nov 2014


Many Thanks for your interest in MKV Buddy. The main goal of MKV Buddy is to simplify and speed up d...

AtmoLight plugin for...






in Andere - Created: 27 Jan 2013


AtmoLight process plugin AtmoLight is a plugin for MediaPortal1 which adds support for ambilight sy...

MPCleaner






in Werkzeuge - Created: 23 Jun 2012


This plugin will scan you thumbs folders and by comparing what images are stored in the MediaPortal ...

ARC - Audio Renderer Changer
in Filme und Videos - Created: 28 Sep 2011


Why? Since Windows Vista and Windows 7 it isn't possible to change the audio renderer via registry-...


My Netflix
in Filme und Videos - Created: 1 Okt 2011


My Netflix allows MediaPortal users to manage their NetFlix queues, search for movies and watch inst...