MediaPortal in der Presse!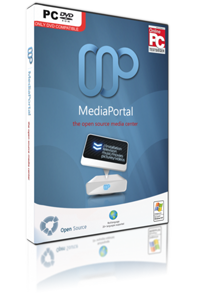 Über die Jahre wurde das Thema MediaPortal von einer großen Anzahl von Webseiten, Newsmagazinen, Blogs und Zeitschriften aufgegriffen. Einige ausgewählte Artikel stellen wir im folgenden vor.
Sie finden einen Artikel, eine Erwähnung oder einen Testbericht nicht auf dieser Seite, sind aber beim Surfen im Internet zufällig darauf gestoßen oder haben darüber zu uns gefunden? Sie sind Autor/Blogschreiber und möchten hier Erwähnung finden? Wir würden uns über eine kurze Mitteilung freuen um den Artikel/die News hier aufnehmen zu können!
2010
---
2009
---
September 03, 2009 - The Digital Lifestyle - Mediaportal vs Media Center? Which to choose?
"MediaPortal is a stellar example of how free, open source software can harness the power of the masses and deliver a powerful and productive application that offers the user a wide variety of choice. While currently windows only, MediaPortal will work on anything from XP to Windows7 so there's no need to upgrade that old HTPC just yet."

---
July 27, 2009 - Freeware Mission - MediaPortal Review
"There is almost no limit to what this program can do... I was quite impressed with its features, a true all-around program."
---
April 16, 2009 - PC Utilities - MediaPortal Review
"MediaPortal looks every bit as good as XP MCE"
---
April 09, 2009 - Geektonic - Suresh's Home Theater and HTPC
"I still cannot believe that mediaportal is a free software. For people like me who use want to organize their movies, music photos and have a nice interface with customizable screens etc….mediaportal is the way to go."
---
March 09, 2009 - Techosaurus Rex - MediaPortal Review
"All in all, I have to say that I STRONGLY recommend MediaPortal, I'm very happy with its DRM-Free Attitude, operation and general glossy sheen. It's very professional looking unlike a lot of open source software I've used while maintaining flexibility and community driven growth and support."
---
January 14, 2009 - AVS-Forum - MediaPortal 1.0 vs Vista Media Center user review
"Mediaportal works out of the box with standard file formats that VMC is tricky to get to work properly with such as ogg"
---
2008
---
December 29, 2008 - GeekTonic - Testing The MediaPortal Waters - Experiencing New HTPC Software
" importing my music and ripped DVD library was quick, painless and error free. The importing tasks are all performed via the neat configuration application that handles the plugins. Again, HTPC front ends such as SageTV would certainly benefit from having a tool like this for handling these tasks from the 2 foot interface. "
---
December 24, 2008 - Downloadsquad - Media Portal home theater PC app for Windows hits 1.0
" just installed Media Portal 1.0 on my netbook, and aside from the fact that I had to download and install Microsoft's .NET framework first, the process was pretty much a breeze. "
---
February 1, 2008 - Raiden's Realm - Review: Media Portal 0.2.3.0
" Overall I'm very impressed with Media Portal... it's worth grabbing if you want a good DVR software that will work with most of what you have. Between this and MythTV, I'd say the developers of Media Portal have succeeded at slightly better hardware support, given that more TV Capture Cards, remotes and other associated hardware is supported vs MythTV. "
---
2007
---
November 19, 2007 - CNET UK - Open-source software rated: Ten alternatives you need
".. go grab yourself MediaPortal, because it's bloody marvellous."
---
March 09, 2007 - IDG.se - Stor guide: gratis program är bäst i din htpc
---
February 06, 2007 - Softpedia - Version reviewed:MediaPortal 0.2.2.0
"If you want a mediacenter-type of software to play your DVDs and your music, watch your pictures, get weather reports and so on, but you are not necessarily set on spending money on such a piece of technology, Media Portal is definitely one of the first choices."
---
2006
---
December 22, 2006 - PVRWire - MediaPortal - Alternative to Windows Media Center
"The great thing about MediaPortal is it is open source meaning it's a lot more customizable than the regular Windows MCE."
---
August 14, 2006 - Afterdawn - Mediaportal v1.1.0 Beta 1 User review
"this software is so good that a member of the Microsoft Media Center team recommends it on his blog, and numerous well respected magazines and websites laud it as it justly deserves. I hope you love it as much as I do."
---
July 14, 2006 - Digital World - Media-Center gratis
"Sie suchen ein Media Center? Die freie Software Media Portal kann alles: Fernsehen, Musik, Fotos. Digital.World zeigt Ihnen, wie Sie Media Portal installieren."
---
June 06, 2006 - Online PC - Testsieger: MediaPortal
"MediaPortal schlägt Sceneo TV Central, Nero Premium, Showshifter, Cyberlink Power Cinema and Intervideo Home Theater Platinum"
---
January 01, 2006 - Marketing your biz - MediaPortal Review
"If you are comparing Media Portal against upgrading to XP Media Center, then Medial Portal will win hands down on functionality."
---
2005
---
November 24, 2005 - Netzwelt - Projekt HTPC: MediaPortal einrichten
"Mittlerweile gibt es aber genügend Alternativen zur relativ engstirnigen Mediacenter Edition von Microsoft und zur kryptischen Linux-Oberfläche...Wir haben uns für das kostenlos erhältliche Programm MediaPortal entschieden"
---
2004
---