How many people have heard of MediaPortal?

Many people have heard of Windows Media Center, or other media center software, but few realize MediaPortal offers a free alternative, with more features and options than any other Windows media center available today.
Even those who have heard about MediaPortal are often not aware it has grown by leaps and bounds in the past year or two and has become a very stable, feature-rich application. The look, performance, capabilities and ease of use have all improved dramatically.
It's time to change public awareness about MediaPortal! As I reported in the Inside Scoop 1.11: Team Top Ten Countdown last December, we are beginning a promotion campaign in 2011. A new tri-fold brochure about MediaPortal is already available on our Promotional Materials page. Click images to enlarge.
In addition, Lyfesaver74 has recently joined Team MediaPortal as our first Public Relations member. He successfully showcased MediaPortal at the Big Design 2011 Conference in Dallas, Texas. You can read his report Dallas Tours MP at Big Design 2011. He has many ideas and lots of enthusiasm, which I am sure you will hear more about in the coming weeks and months.
How can you help? Read on and find out!
Our greatest resource remains our community. Yes that means YOU! The MediaPortal community is already well known for:
the dedication and excellent support in our forums, even directly from our developers
the genius and creativity of our hundreds of extension developers (both plugins and skins)
the skills, support and helpfulness of users
most of all for the spirit of our community that unites us all. That is why we are proud to say "We don't have users, we are all fans!"
Many users are drawn to MediaPortal because of our amazing community. We have succeeded thus far by working together as a team. Now, let's approach public relations with that same method and enthusiasm!
How many people have you told about MediaPortal?
We have always relied on 'word of mouth' to promote MediaPortal in the past. Obviously this works as the number of users continues to grow. However, there is a lot more we can do. If each of us tell at least two or three people about MediaPortal that would make a huge impact even just to get the name known.
How many new reviews of MediaPortal have you read?
Probably not many! Why? There aren't many! How can we change that?
If you find or write a review of MediaPortal you can add a link to our MediaPortal Reviews forum thread (in MediaPortal 1 Talk). We add these to our website under MediaPortal in the Press. These reviews not only benefit visitors or prospective new users, but they also encourage other reviewers to write about MediaPortal.
Write and post your own review of MediaPortal on download sites you frequent, like CNET. Many such reviews of MediaPortal are very outdated. There is little information out there yet about the stability and great new features coming in 1.2.0.
How many forums discuss MediaPortal?
Do you frequent any forums that discuss HTPC or media center software? What's the latest news about MediaPortal reported there? Do those forum users know about the exciting new developments coming in 1.2.0? If not, we can all easily remedy that.
Have you ever seen MediaPortal at a Trade Show?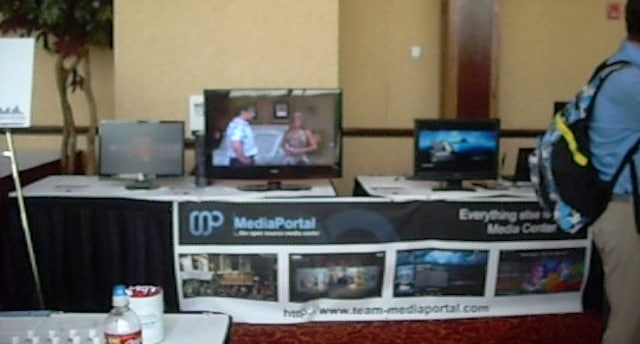 What trade shows might be perfect to showcase MediaPortal in your region? Have you considered doing one? We have all seen how Lyfesaver74 did it. Plus, we will be improving the process as we progress by preparing more promotional materials and a 'kit' you can use to demo MediaPortal at a trade show.
Click image to enlarge.



How many times have you set up MediaPortal for new users?
Many of us have set up MediaPortal for family and friends. However, did you know that some MediaPortal users have turned this into a nice side business by installing, setting up, upgrading and maintaining MediaPortal for 50+ clients?
If you like to think big, why not consider creative applications or installations of MediaPortal? One of our new Documentation Group Team members, wonkyd, is an IT Systems manager for a school and is currently working on a plan to install MediaPortal on the school server so teachers can schedule recordings and then play them back later using MediaPortal on a client PC in the classroom.
Many hotels now have main servers to support Wi-Fi internet in all rooms. They pay a fortune in TV cable costs. Using MediaPortal they could easily recover the cost of hiring you to setup MediaPortal and maybe even write a pay-per-view plugin/app for them to access recorded shows or movies on the server.
What makes MediaPortal unique?
Even people who have heard about MediaPortal are often unaware of the many features that make it unqiue. What can MediaPortal do that other media centers can't, or do better?
Post your ideas in the MediaPortal 1 Talk forum: Why 'Everything else is just a media center' Feel free to brag about your setup! We will use your ideas in our promotional campaigns.
Do you Blog or use Facebook?
If you blog or use Facebook, have you written about MediaPortal lately? If you would like to post a blog on our website, or add a link to your Blog on Facebook, please contact us.
Showrooms
Post a blog, link to your showroom setup on Facebook or add it to our Showroom page in the Wiki. For example, here are a couple photos of one MP user's Home Theater:
Click images to enlarge.
Guess who? Not me! I only wish! Stay tuned for an upcoming blog to find out.
Are you a creative thinker?
The above ideas are just a few of the ways you can help promote MediaPortal. If you have any suggestions or creative ideas to assist our public relations, please add them to the comments for this Blog.
Let's see what we can accomplish when we work together.