Have you developed the most amazing plugin or skin ever? After all that great work, why not get your little bit of fame? How do you get users to try it? Are you doing all you can to promote it?
Promoting your extension is not easy at the beginning. We know that and want to help. Team MediaPortal provides a variety of services that can dramatically increase the profile and use of your extension. Read on to find out how!
Downloads Repository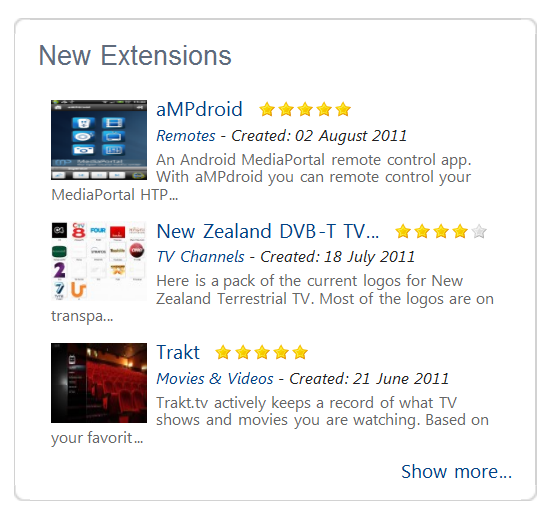 When your extension is ready for 'public' use, the first thing to do is list it in our Plugins and Skins Downloads Repository which is one of the most popular sections of our website.
New listings are automatically posted to our main website page under New Plugins and Skins, in RSS feeds of Recently Added or Updated extensions, and highlighted in the Downloads Repository as well.
For details how to add your listing, plus tips to create the best listing possible and make use of the Rank and Review features, see our Wiki section: Downloads Repository.
Note: Extensions listed in the Archive Downloads Repository are only found if users search it directly. If you already have an extension listed in the Archive, be sure to add a new listing in the main Repository to increase visibility.
Facebook and Twitter
Love 'em or hate 'em, never underestimate the power of social websites! One quick post or tweet can draw a lot of attention to your extension. The Team MediaPortal Facebook page already has over 2,600 visitors with more joining daily. Posts on Facebook automatically generate a tweet on our Twitter page. You can post a link on our Facebook page, or ask one of the page admins to aid you.
Skins Gallery
Our new Skins Gallery has proven quite popular. If you want to showcase your skin in the gallery, just submit your most extraordinary screenshots and we will add them. Ten screenshots can be displayed in the gallery, and can be any size, either in png or jpg format. Thumbnails are automatically generated by our website.
Just email a zip file to Diese E-Mail-Adresse ist vor Spambots geschützt! Zur Anzeige muss JavaScript eingeschaltet sein! or post the zip file wherever you like and send the link to our web admin, high either via the email above or forum private message. Files should be named with a description of the window displayed so users know what they are viewing, not numbered (e.g. 1.jpg). Ideally file names should not include spaces.
Website
We are always searching for good screenshots to add to our website, particularly those that display unique features of MediaPortal, skins or plugins. Plugin developers may also submit screenshots - just follow the same guidelines as above for the Skins gallery.
Skins may submit more than the ten screenshots displayed in the gallery. We will add them to random screenshots displayed on many of our website pages, in addition to those displayed in the gallery. We will also use them in slide shows and features pages with links to the skin gallery page. So hunt for those unique layouts and designs you have done, especially for screens not usually displayed, and help us really show off what MediaPortal can do!
Blogs/News
Tell your story! MediaPortal is all about the brilliant people who donate their time and energy to make an awesome media center software, for free. Everyone loves to get the inside scoop on what inspired you, or how you developed your extension, or more details about its cool and unique features. Extension developers are free to write and post Blogs on our website, or can write and ask for a news release announcing their new or updated extension.
Wiki
You didn't think of the Wiki as promotion? Think again! You can add screenshots, videos, details of features and much more! Check out the aMPdroid Wiki:
Many new users check our Wiki. In fact our Wiki search reports reveal that users often search for both plugins and skins in our Wiki. You may easily increase the number of users you reach by adding even one page in the Extensions section of our Wiki either under Plugins or Skins. Over 25 new extensions are already listed. Is yours?
If you already have your own Wiki, a quick page and link in the MediaPortal Wiki will help new users find it.
Partners
Many extensions link or partner with hardware, software or service providers. Is your extension listed on their website? For example, the Radiotime plugin is listed on the Tune-in website. It's probably the best way there is to reach the target user group for your extension.
MPEInstaller
Don't forget about the MediaPortal Extension Installer (MPEI). Many users browse and view extensions using MPEI, or even within MediaPortal using the companion Extensions plugin. You may add screenshots, highlight features, and even change logs.
Suggestions
Share your own success stories about how you promoted your extension, or offer tips to others to improve their promotion. Just add them to the comments for this blog, or consider writing a short blog yourself.