TV Server: Episode Management is back
MediaPortal TV Server offers some nice features for series handling. One of those features is called episode management.
This feature was dissabled for quite some time because a bug caused that users lost recorded shows. Now this issue has been fixed and the feature is enabled again.
It allows you to keep always the latest x episodes of a series you scheduled for recording on your hard disk (of course this feature does not work with recordings of type "once").
Example scenario: let's say you want to record "The Simpsons" which airs every weekday in the evening. You first set up an appropriate schedule (type "weekdays") and set the number of episodes to keep to "3". The first episode is recorded on Monday, the 2nd on Tuesday and the 3rd on Wednesday. This means you have 3 files on your hdd on Thursday morning. In the evening the 4th spisode airs and as you selected to keep 3 episodes, Monday's episode will get deleted before the recording starts. On Thursday evening you still have 3 files on your disk (Tuesday's, Wednesday's and Thursday's episodes).
This feature is very handy if you have a small hard disk and you don't want to keep all old episodes. Unfortunately it was activated by default and people not knowing about episode management lost recordings. With today's SVN episode management is fixed and will now only delete files if it is set up to do so.
Please notice:
recordings (series) that were scheduled with a TV Server version from before 2008-01-03 might get deleted due to the old behavior. Read more to see how to prevent that by updating your schedules!
First open SetupTV to see which schedules you need to change. You'll find a list of your schedules when clicking on "TV Schedules" in the left menu: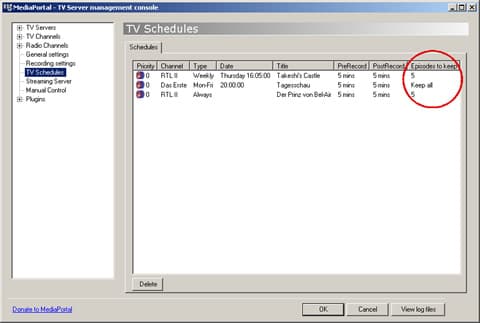 Start MediaPortal, go to TV -> Scheduled, there activate "series" view: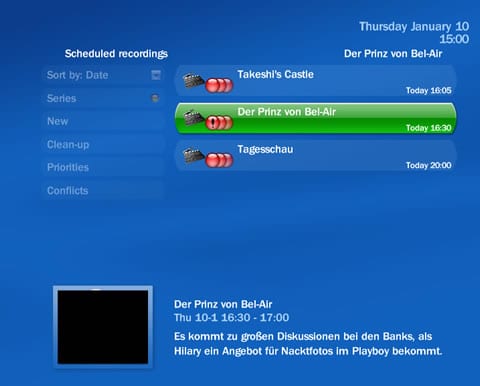 Click on the schedule you want to change and select "Episode management":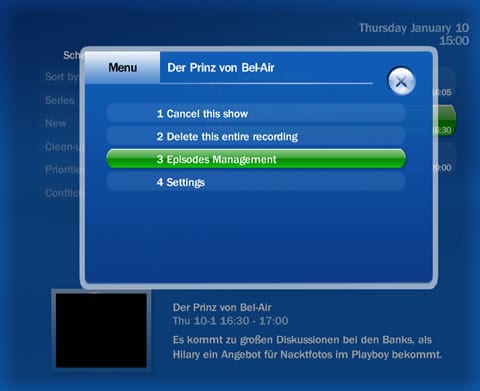 Chose to keep all episodes or pick the number of your choice: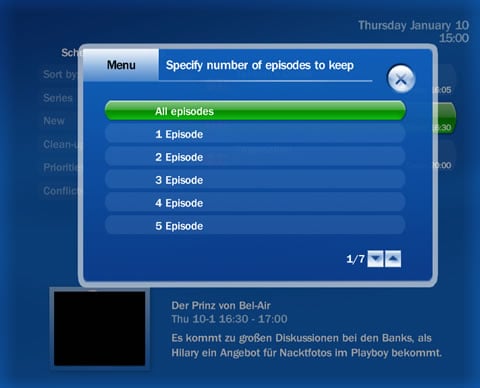 You're done. If you selected "All episodes", nothing will be automatically deleted by MP.