Radio: Featured Listings








This plugin for MediaPortal makes it possible to browse listen internet streams provided by RadioTime: Find and listen to Talk, Music and Local Radio Online. Installation: - Use MediaPortal Installer utility (available in the MP root directory) to install the plugin - To use preset you need to ...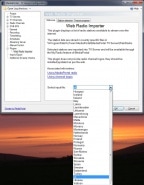 MediaPortal TV Server supports web streams as channels, this plugin presents a list of available Radio channels which are streamed over the internet and allows you to select which ones to import as TV Server Radio channels.   Currently included countries are: Albania Andorra Armenia Austria ...