Weather: Most Reviewed Listings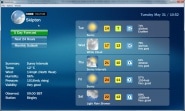 This plugin presents BBC Weather forecast data in a format similar to the BBC Weather website. There are currently four forecast views available, the 5 day forecast (default), the 24 hour forecast, monthly outlook and the forecast maps. Current observations are shown on all 4 screens.    ...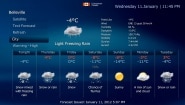 The Canadian Weather plugin uses Environment Canada content. Functionality is similar to the former default MediaPortal weather plugin. It includes a one page view of current conditions with a 7 day view of highs, lows, Prob. of Precipitation, icons, general conditions text, a 7-day text forecast, t ...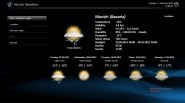 World Weather is a MediaPortal plugin, which can be used to display weather data, charts and feeds, weather images and slideshows, weather maps, geographical clock, astronomy and calendar information for self-defined locations. Weather condition providers can be AccuWeather, Yahoo, WorldWeatherOnlin ...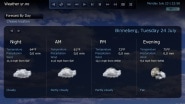 This is a plugin that retrieves data from yr.noThe plugin supports multiple locations, and supports weather "day by day" and also "hour by hour" Setting up locations is done in configuration, you have to enter the url for the corresponding location example "http://www.yr.no/place/Norway/Oslo/Oslo/Os ...