MP2 Plugins: Top Rated Listings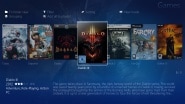 Emulators is a plugin that allows you to view and start emulated and PC games from MediaPortal 2. Features: Play emulated games natively in MediaPortal 2 by using Libretro cores, no need to launch external applications Retrieves and displays online information/images for your games, currently u ...


SlimTV - Watch TV - Using MediaPortal 2 NativeTV 3.5 - Current version: MediaPortal 2.2 (12/2018). SlimTV allows you to watch TV inside MediaPortal 2. It provides features like: Playing TV as single stream or even Picture-in-Picture (PiP) Use Electronic Program Guide (EPG) to schedule simple ...