Systemwerkzeuge

Treiber, Codecs, Firmware und Betriebssystem Tools für den HTPC. Hierbei handelt es sich nicht um MediaPortal Erweiterungen!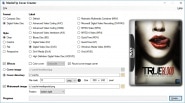 MediaTip Cover Creator is a tool to generate 2D and 3D Compact Disc and Digital Video Disc covers.






After having troubles running the windows PC for some days (leeking in Memory, starting with errors after standby ...) i took a look into the Windows Eventlog and noticed that the cause of the Problem was almost different, but there was always an error logged. So i decided to write an tool that res ...