System/Utilities: Top Rated Listings






















This extension installs the LAV Filter package, which contains a splitter, audio and video decoder for the most common formats that are used around the web.   Note for TV Users: The TsReader of MP 1.2.3 has problems in combination with the latest LAV version. Use an updated version: http://f ...






















Introduction MediaPortal Tray Launcher is a small utility that aims to allow MediaPortal users to launch it via the green Start button of their remote control. A utility designed for this purpose already comes with MediaPortal. However, the original utility is only compatible with remote controls s ...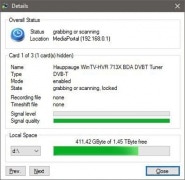 HTPCInfo TVServer Monitor is a Windows tray application to monitor the activity of a MediaPortal TV Server.